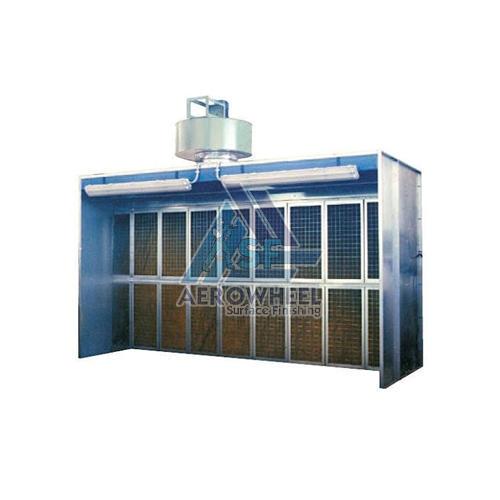 Dry Paint Booth Manufacturers utilize spray booths to apply paint and other coatings to components and products. Not only are they required for your employees' safety, but failing to utilise one as part of your manufacturing or finishing process is illegal. Operating a business without a spray booth is like driving without a licence, and it may result in your company being shut down.
Using a spray booth for industrial purposes has several advantages for both your goods and your workers:
• It is simpler to apply coating on items in a controlled atmosphere.
• Hazardous materials must be controlled and contained.
• To avoid clutter and dust from affecting the quality of your painting, set aside a dedicated clean painting area.
For Three Primary Reasons, They Are The Most Preferred Form Of Booth Among Professional Sprayers:
• They provide high-quality finishes if air extraction is managed through the back/top of the booth and the spray booth filters are replaced regularly.
• They come in a variety of modular sizes and are commonly used to convert rooms into spray rooms, which makes them a popular choice.
• They can remove large quantities of fume-laden air, resulting in a safer working environment, thanks to unique paper filters that capture any sticky airborne particles.
Easy Coating in a Controlled Environment
Several variables might influence the outcome of any coating or spraying procedure. Environmental issues such as temperature, humidity, dust, and other elements are all significant sources of worry. A spray booth offers a controlled atmosphere, removing these worries and allowing you to concentrate on the work at hand. The regulated atmosphere can even aid in the drying of paint and other coatings.
Hazardous Materials Management
Your coating materials' fumes and particles go further than you believe, posing a health and safety risk to your staff. Spray booths, when used in conjunction with a spray booth filter, may assist keep harmful materials contained and the air in your workplace clean.
Painting in a Clean Environment
Dust and particles might collect onto the surface while your paint or other spray coatings dry. This might result in an uneven, pitted surface, or it can even shorten the lifespan of your completed product by leaving exposed areas.
A spray booth provides a clean, dust-free environment where you can manage what is sprayed on your products.
For High-Volume Industrial Manufacturers And Aircraft Finishers
For high-volume industrial manufacturers and aircraft finishers, changing the exhaust filters in your spray paint booth may be both costly and time-consuming. A water wash booth solves this problem by collecting and removing paint particulates from the air using recirculating water rather than filters.
;
Water captures and removes particulates, resulting in a cleaner painting environment, more productivity, and better working conditions. This is especially useful in high-volume applications and spray paint booths with robots or conveyorized systems since it eliminates the need to halt production to change filters.
Check To See If The Drying System Will Work With Your Paints
You don't want to spend a small sum on a drying system just to discover it won't work in your present Dry Paint Booth. It's a high-capacity drying system that's meant to boost efficiency while also improving paint quality. It does not, however, work with aqueous paints. If you tried to put this system in a booth that sprays solvent-based paints, the result would almost certainly be problematic.