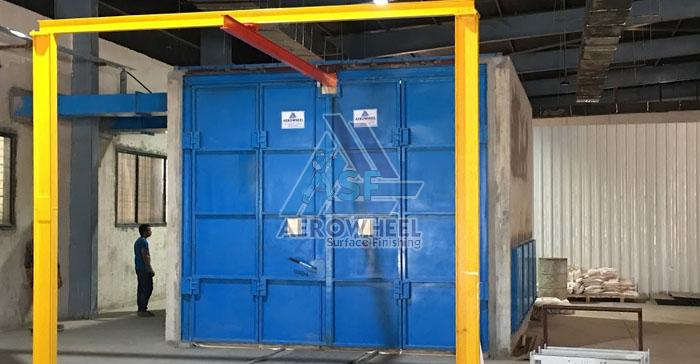 A blasting machine is a compact source of electric current for the blasting cap for the main explosive charge. In mining and demolition, blasting machine has huge usefulness. An electrical generator operates this machine.
But the modern blasting machine is powered by a battery system. It does not have any similarities with older designs. An external circuit is ideal for operating the machine perfectly with an internal shut.
Methods of Abrasive Blasting


The useful or functional methods of portable abrasive blasting machines are as follows-
1. Bead Blasting- In this blasting, glass beads are used to remove the surface deposits. It works well for removing fungus, calcium deposits, and paint.
2. Wheel Blasting- An airless blasting technique that uses centrifugal force to shoot the abrasives against the surface.
3. Hydro blasting is a useful water blasting technique that uses high-pressure water to remove chemicals, paints, and debris build up.
4. Dry ice blasting is a technique that uses air and dry ice to dislodge items from a surface because the dry ice sublimates are minimal.
5. Micro Abrasive Blasting- It is also known as pencil blasting. The dry blasting technique uses a small nozzle that directs a fine stream of abrasive media to a targeted area.
6. Bristle Blasting- This technique uses a high carbon rotary steel brush that prepares a surface.
Benefits of Abrasive Blasting for Surface Coating Preparation
Abrasive media is an inexpensive and reusable technique. Blasting offers additional economic advantages because it efficiently cleans the surfaces better and faster than traditional techniques. It is also effective for removing rust from metal surfaces.
Abrasive blasting prepares the surfaces for coating applications perfectly. It is important to keep the temperatures and relative humidity levels for temporary climate control solutions to eliminate the excess moisture. Temperature and humidity control is vital while preparing the metal surfaces.
Working Process of Blasting
Blasting is the process of reducing a solid body such as rock to fragments by using an explosive. Conventional blasting operations include drilling holes, detonating the charge, clearing away the broken material, and placing a charge. Upon detonation, chemical energy is liberated with a compact explosive and becomes transformed into a glowing gas.
Under the influence of the gas pressure, the cracks extend in front of the drill whole yields. If the hole's distance is too close to the surface, the rock in front of the hole breaks free.
Process of Setting up Blasting Equipment
Portable abrasive blasting machine manufacturers include many types of equipment, such as.
1. Abrasive Blast Materials- You can choose your materials by hardness, size, shape, and type. It is necessary for different applications.
2. Air Compressor- An air compressor pressurises the air to blast the surface and provide your desired result.
3. Blasting Pot- It is also known as a pressure blast tank.
4. Moisture Trap and Separator- A moisture trap and separator remove the water in the compressed air before it goes into the blast pot.
These are the unique factors you should consider while considering the blasting machine